OVERVIEW
REVIEWS
SPECIFICATION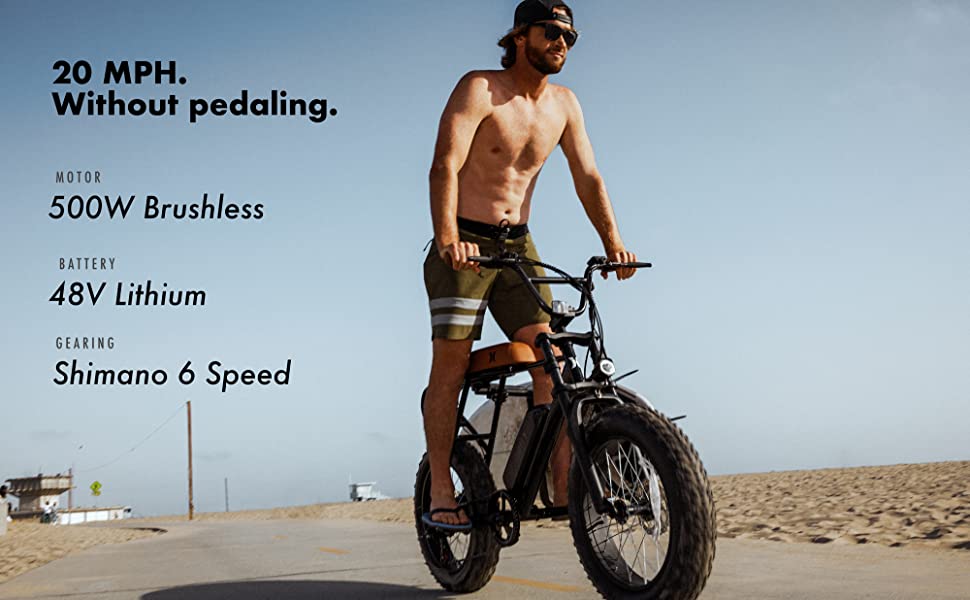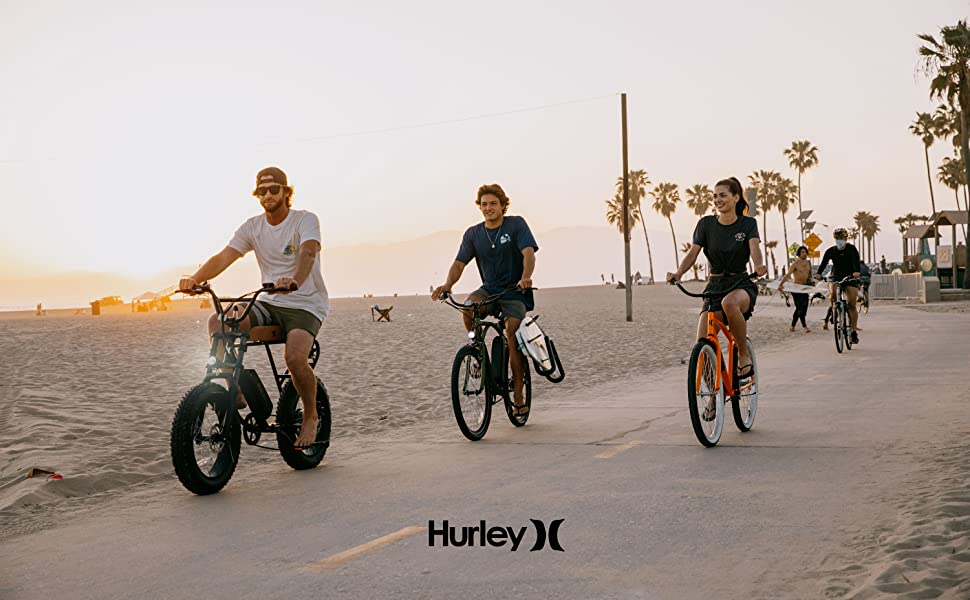 Front suspension fork
Tackle sketchy terrain with the front suspension fork, moto style triple tree fork design, and bmx handlebars with contoured grips to fight wrist fatigue on long rides.
Disc Brakes
To go fast you need to be able to stop. Front and rear mechanical disc brakes provide plenty of stopping power and keep you in control.
4" Fat Tires
Road, dirt, sand, or snow - get off the beaten path with wide fat tires and dual wall alloy wheels. Knobby tires provide a sharp bite and have an aggressive look that will catch some stares.
Shimano 6 Speed Rear
Shift the 6 speed rear and set your ride assist level for new combinations of speed and distance.
Mini swell in name only, this bike is a tidal wave of fun.
Came early by fed ex and they dropped off the box in my alley behind the house. Luckily it was not stolen. So I found it eventually and dragged the 80 pound box into the yard . Opened it up to a pristine bike , the frame and things inside were wrapped up with cushioning plastic sheets. Only the handle bars and pedals needed to be reattached. tightened up.
True electric power bike!
Ive had the bike for several weeks now and it is perfect. Super fast. Long battery life. I added a rear view mirror and and leather cup holder that matches the seat color. Just installed a California license plate with the name Zippin Pippin!! Look that one up!! Highly recommend.
Extremely portable and easy to store.
I'm blown away by the quality and performance of this e-bike. It's exceeded my expectations, and the customer support team has been incredibly helpful.
Quiet and easy to operate e-bike.
This is a great e bike . It came in a decent size box already to assemble . Just needed the handle bars and you can cruise .
Powerful motor with great speed.
This e-bike has made my life so much easier! It's reliable, comfortable, and the customer service team has been so friendly and responsive.
Bike Type
Electric Bike, BMX Bar
Age Range (Description)
Adult
Specific Uses For Product
Road
Special Feature
Digital Display, Odometer, Rechargeable
Included Components
Kickstand, Tool Kit
Size
L / 20 Fits 5'6"-6'2"
Model Name
Mini Swell Electric Bike, 4-Inch Wide Tires, Shimano 6-Speed E-bike
Item Package Dimensions L x W x H
57.09 x 36.22 x 11.02 inches
Package Weight
75.2 Pounds
Warranty Description
1 year manufacturer
Suggested Users
Unisex-adult
Manufacturer
Joy Ride Bikes
Size
L / 20 Fits 5'6"-6'2"